THE WARDROBE STAPLES: Red Wing Heritage Boots
January 7, 2021
Red Wing Heritage creates lifestyle footwear and leather goods with an enduring commitment to American craftsmanship. They are a family-owned business that was founded in Red Wing, Minnesota in 1905. Since its inception, the milestones have been many, including: The debut of the 877 Moc Toe in 1952, and the acquisition of S.B. Foot Tanning Company in 1987. Red Wing Heritage continues to build on this historic legacy with lifestyle footwear that is crafted with pride and purpose. Their boots and shoes are made for modern men and women with over a century of archival inspiration stitched into each pair.
Red Wing's most iconic pairs are probably the 875 (on the left) and it's taller cousin 877 (on the right) which were both originally made around the 50's and were some of the first boots made with a rubber sole to protect the feet of farmers and huntsmen and give them the softer feel if they need to stand up on their feet the whole day.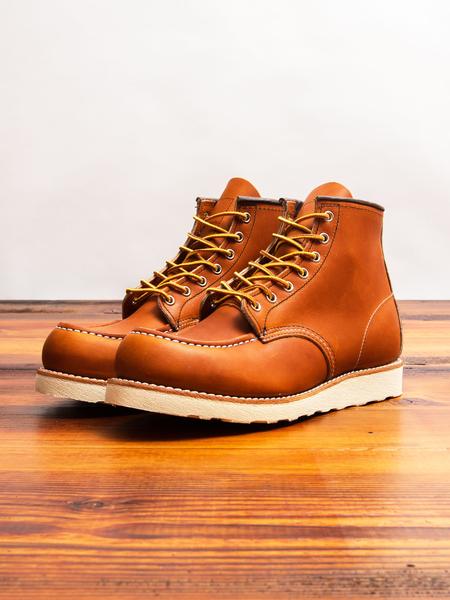 Red Wing has always provided the world with top-notch work-boots but in beginning the 1970s, Red Wing owners in Europe and Japan began wearing work boots and shoes as stylized Americana footwear. Years later, the success of old Red wing models as style icons led to a partnership with J.Crew which culminated in the launch of separate Red Wing Heritage line in 2007. The Heritage line isn't just a mere reproduction of some of their models, but it's a line which takes over all their classic and iconic boots from the archives and from the work-line and handmakes them stitch-by-stitch in the same factory near Minnesota that has been producing them since 1905. And if someone doubts their authenticity and thinks that they left the workboot roots behind, then know that Red Wing also still makes full fledged working boots that are highly praised and modernised. They also reintroduced their women's line of heritage boots back in 2016 because of the style around the world had made "manly" boots attractive to women. Ladies had been wearing Red Wing Boots for long time but many had struggles with their bulky fits and big sizing which Red Wing fixed and gave the ladies their own line which gave them the option for narrower lasts, softer leathers and smaller sizes.